Wooden Jigsaw Puzzles
Our Wooden Jigsaw Puzzle Shop offers a unique and traditional experience for puzzle enthusiasts. Our beatifully crafted laser cut wooden puzzles for adults and kids are made of high-quality materials and come in a variety of designs and difficulties. From cute animals to intricate abstract designs, there's a puzzle for every level of skill.
Most Popular Wooden Puzzles
Why our wooden jigsaw puzzles?
1. Beautiful original designs – Our premium quality puzzles are carefully crafted and finished to perfection. Precise cuts and intricate details add to design quality. Vibrant colors enhance visual appeal, and designs cater to different skill levels. The smooth finish and durable wooden material provide a comfortable grip and repeat use. The wood puzzle pieces are sustainable and environmentally friendly, and make great gifts or decorative pieces. The high-quality design promises a challenging and enjoyable experience.
2. Enjoy lots of fun – Enjoying lots of fun with puzzles is easy. Whether you're a beginner or experienced puzzler, there's a design for you. Puzzling improves hand-eye coordination and concentration. It also provides a sense of accomplishment when completed. Solving puzzles with friends and family makes it a fun bonding activity. Taking your time and relaxing while puzzling can reduce stress. Wooden jigsaw puzzles can also be used as a decorative piece after completion. Choosing a design that suits your personal style and interests enhances the enjoyment. With a variety of difficulties, you can continuously challenge yourself. Investing in high-quality wooden puzzles ensures a long-lasting, enjoyable experience.
3. Get some concentration – Puzzles can help improve concentration. The act of putting the whimsy pieces together requires focus and attention. Puzzle-solving provides a mental workout and can increase cognitive function and improved problem solving skills. It's a great way to take a break from screens and technology. Taking time to complete a puzzle can also provide a sense of relaxation and calmness, aiding in concentration.
4. Great as a gift – beautiful puzzles make great gifts for various occasions. They're unique and personal, perfect for special events like birthdays or holidays. The high-quality design and material make them a long-lasting and valuable gift. The option to customize puzzles makes them ideal for sentimental gifts. Gift recipients will appreciate the thought and effort put into the gift, making it a memorable and cherished present.
read more

close
Frequently Asked Questions
Actually not. Even kids can do wooden jigsaw puzzles if they're able to concentrate and observe shapes and match them. However, the time to finish each picture is different. It's related to the size you choose and also the design.
Despite using high-quality wood, our products are crafted with a strong commitment to environmental protection. The materials used in the production of the classic wooden jigsaw puzzles are sustainably sourced and the manufacturing process is designed to minimize waste and minimize harm to the environment.
Most of the puzzles are available in 3 sizes :
S size - A5 (size ca. 8.6x7.2 in., 100 pieces, up to 2 hours)
M size - A4 (size ca. 11.8x9.8 in., 200 pieces, up to 4 hours)
L size - A3 (size ca. 15.7x13.1 in., 300 pieces, up to 6 hours)
The Benefits of Wooden Puzzle Solving for Children
Wood Puzzles are for kids as well
Wooden jigsaw puzzles are a classic play item that provides numerous educational and developmental benefits for our kids. Not only do they improve fine motor skills and hand-eye coordination, but they also encourage problem-solving abilities and creativity. These skills are important for children's overall development and can be further enhanced by choosing eco-friendly and sustainable puzzles.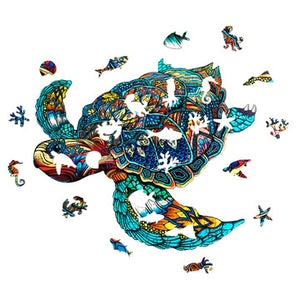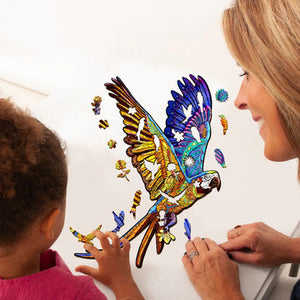 How solving puzzle helps occupy children meaningfully
In today's world, screens and technology dominate children's playtime. However, wooden jigsaw puzzle provides a hands-on, screen-free activity that is both fun and educational. Children can learn about shape recognition, pattern recognition, and spatial awareness through solving puzzles.